Queen's Birthday Honours: Straw Bear Festival founder recognised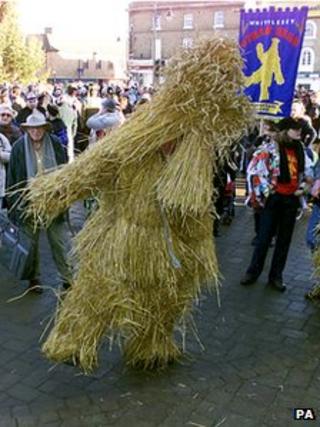 The man who revived a traditional folk festival in Cambridgeshire is among 22 people in the county to be recognised in the Queen's Birthday Honours list.
Brian Kell, 63, helped revive the ancient Straw Bear Festival in Whittlesey in 1980. It now attracts thousands of visitors every January.
He received the British Empire Medal (BEM) for services to the community.
Arthur Bonus, 92, also received the BEM for 52 years of serving the community in his village of Rampton.
The beginnings of the Straw Bear tradition are unclear, but it was customary in the 19th Century for a farm worker to be covered in straw - to resemble a bear - and to dance for locals in Whittlesey for gifts of food and beer, to be shared among other labourers.
Folk traditions
It took place on the Tuesday following Plough Monday, but the tradition died out in about 1910.
Mr Kell helped revive the festival 70 years later, and processions through the town - led by a "bear" - are now accompanied by theatre productions teaching local children about this and other folk traditions.
He was recognised for his services to both music and the community.
Also mentioned in the Honours list is Stephen Patrick O'Rahilly, professor of clinical biochemistry and medicine at the University of Cambridge.
He was appointed Knight Bachelor for services to medical research.
William Tudor Brown, co-founder of ARM Holdings was appointed MBE for services to the electronics industry, and Richard Todd, the head gardener at the National Trust's Anglesey Abbey received the BEM for his years of service to the trust and national heritage.