Dean Symmons: Cambridge paralysed boy's walk 'disappointing'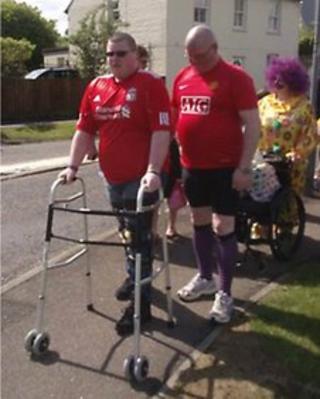 A paralysed teenager who set off on a one mile walk to raise money for a new wheelchair had to stop after 400 yards (365m), he said.
Dean Symmons, 17, from St Neots, wants a lightweight wheelchair to help him with his voluntary work teaching people wheelchair skills.
Speaking after the attempt, he said: "Personally I feel really disappointed as I wanted to walk more."
But mum Julie Robinson, 41, said: "I'm so proud of him."
Dean injured his spine two years ago, twisting to hit a softball while at school.
It led to a spinal stroke which left him unable to walk.
He carried out his walk on Saturday using what he referred to as "Forrest Gump-style callipers and a Zimmer frame".
"I wasn't able to complete the mile simply because I underestimated how hard it was going to be - it was mainly the hills and little drop kerbs in the path that really took it out of me.
"At a rough guess I managed about 400 yards, which is still a lot more than I've previously done, but then I had to get back into the chair and wheel the rest of the way.
"I got back up at the end though and walked across the finish line."