Nick Clarke blames council loss on distance from Fulbourn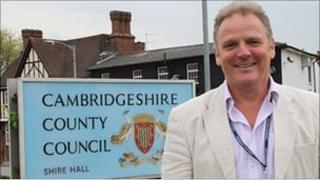 The former leader of Cambridgeshire County Council said the fact he lived 12 miles (19.3km) away from his ward contributed to him losing his seat.
Tory Nick Clarke lost his Fulbourn seat as the Conservatives lost overall control of the council this month.
Mr Clarke said in his blog distance was an issue he thought "might trip me up".
He said John Williams, the successful Liberal Democrat candidate, included a map on his campaign leaflets to show how far away Mr Clarke lived.
On Tuesday the Conservatives retained the leadership of the council despite the loss, with Martin Curtis being elected at a full council meeting.
There are now 32 Conservative, 14 Liberal Democrat, 12 UKIP, seven Labour and four independent county councillors.
In his first blog since losing his seat, Mr Clarke, who lives in Papworth Everard, said: "Clearly living 12 miles from my division was an issue that I recognised might trip me up and clearly it did.
"John Williams included a map of where I live on his leaflets just in case someone might not know."
He added a "protest vote" about immigration also derailed his party's success in the election.
Campaigning before the election, Mr Williams - who lives in Fulbourn - said on his blog: "Residents in the Fulbourn division need a councillor who is there in the patch 24/7 to champion their causes, be there for them outside election times and make it the best place to live and work in the county."