KFC 'giant' chicken sign angers people in Cambridgeshire town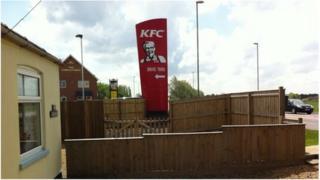 People living near a fast food restaurant have said its advertising sign is so big they feel like "Colonel Sanders is looking at them all day".
The 25ft (7m) sign was placed outside a new Kentucky Fried Chicken (KFC) branch in the Cambridgeshire town of March.
One resident said: "My neighbour is right next door, and she can see the colonel's face from every room."
A spokesman for the franchise operating the restaurant said: "We hope to resolve the situation soon."
'Neon at night'
Don Burr, who lives nearby, said: "The man on the sign - Colonel Sanders - is looking at me all day. When I come up the garden he's still looking at me.
"I've never seen a sign as big as that, and he's all lit-up and neon at night."
He said he had lived in the village too long to consider moving but feared it would "knock the prices off the bungalows" next to the KFC site.
Fenland District Council granted planning permission for the takeaway, which opened in the village two weeks ago.
A spokesman confirmed a complaint had been received about the size of the sign but added: "An officer has measured the sign and it fits with the planning application.
"We are taking no further action."
The KFC franchise spokesman said it was "looking into the case".
"We apologise for any misunderstanding as we always strive to be a positive addition to the community," he said.
"The restaurant has created about 40 career opportunities for local residents and staff will carry out regular litter picks."