Andrew Lansley's blindfold bus journey in Cambridge with RNIB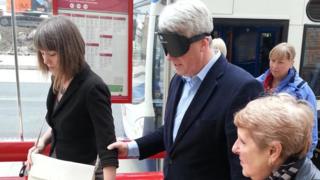 An MP has been blindfolded for a bus journey in Cambridge as part of a campaign for better announcement facilities on public transport.
Blind and partially-sighted campaign groups invited Andrew Lansley, South Cambridgeshire MP, for a short trip to highlight the issue.
Mr Lansley said he got a sense of the difficulties people faced.
One of the local bus companies said it was looking at having a trial of a new audio system.
Mr Lansley was invited on the blindfold journey by Maxine Turkington, the partially-sighted Royal National Institute of Blind People (RNIB) co-ordinator for Cambridge.
"We want to see better audio facilities on the bus and at bus stops so people know when a bus is coming and where it's going," she said.
'Perils'
"We would also like better training for drivers to remind them to look for people with white sticks at stops and to talk to them when they're on board to find out what their needs are.
"Mr Lansley was able to experience all the perils of everyday life."
They got a bus from Hills Avenue to Cambridge railway station and then walked back.
He said: "You immediately get a sense of how difficult it must be, particularly if you have progressive loss of sight.
"We've got to ask if we're giving people the infrastructure and all the clues that enable them to come and go as they want to."
The RNIB said it had been talking to local and national bus companies.
Andy Campbell, managing director of Stagecoach East buses, said: "I can understand the difficulties for blind or partially-sighted people using buses.
"We are looking to trial an audio system on a couple of buses on the St Ives to Cambridge busway, but we think there may be difficulties to overcome in the system."