Cambridgeshire guided bus crash injures two people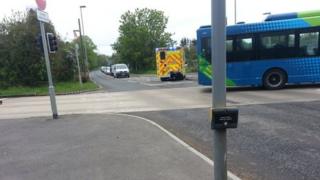 Two women were taken to hospital after a crash between a bus and a car on the guided busway near Longstanton in Cambridgeshire.
The crash happened at 06:50 BST on the B1050 as the bus was crossing between two sets of tracks.
A spokesman for bus operator Stagecoach said the traffic lights had been on green as the bus crossed.
One woman involved in the collision sustained slight head injuries and another received injuries to her hand.
Andy Campbell, Stagecoach managing director, said a female passenger sitting close to the door of the bus received cuts when the glass shattered on impact.
A witness described the car as "very smashed up".
A spokesman for the East of England Ambulance Service confirmed two women were taken to Addenbrooke's Hospital in Cambridge.
It is not known whether they were both passengers on the bus.
The 16-mile concrete-tracked busway opened in August 2011 and runs services between Huntingdon and Trumpington, south of Cambridge.
The latest incident is the third crash on the busway in seven months.
In November a bus came off its tracks, with the driver treated for shock. No defect was found in the vehicle.
In February two buses collided on the tracks, injuring three people.