Rings End railway viaduct demolition bid 'needs more evidence'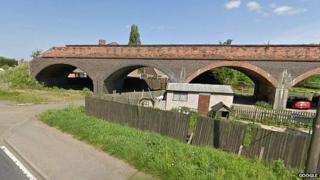 A bid to demolish a former Cambridgeshire railway viaduct has been refused after planners called for more information about the project.
A landowner submitted plans to remove the 12-arch viaduct at Rings End, near Guyhirn, last month, sparking opposition from a local heritage group.
Fenland District planners said archaeology and wildlife surveys would need to be carried out first.
They said they also wanted more evidence about the site's restoration.
Their report added the structure had been identified on a register of Buildings of Local Interest and stated: "In principle, the loss of such a dominant feature in the Fenland landscape is of concern."
The structure dates back to 1860 and was last used by trains in the 1980s.
Applicant Mr Perna, who wants to reclaim the bricks, said the viaduct was falling into disrepair and had not been maintained since the railway's closure.
Ken Elener, the applicant's agent, said he would now discuss the next steps with his client following the planners' report.
Opposing the plan, a spokesman for the Wisbech Society said the viaduct was a "rare and largely unique example of Victorian railway engineering in Fenland".
"It is a local landmark where local people recall watching steam engines hauling wagons loaded with coal and produce," he said.