Cineworld cinema to be rebuilt over 30in error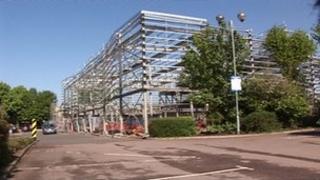 A Cineworld cinema under construction in Cambridgeshire is to be dismantled and rebuilt after workmen discovered it was 30in (75cm) out of place.
Britannia Construction said the error arose because it had been given incorrect drawings from architects.
Work has been under way at the complex in St Neots since November. It is thought it could cost up to £1m to demolish and rebuild it.
JWA Architects, based in Leicestershire, declined to comment.
Chris Goldsmith, from the developers Turnstone Estates, said residents raised the issue because they felt the frame of the building was closer to their homes than they expected.
'Unfortunate news'
Work on the new £8m Rowley Arts Centre - including a six screen cinema, restaurants and residential flats - began at the end of November.
The error will now delay completion from the end of September until January 2014.
Mr Goldsmith said: "We have taken the unprecedented step of halting the existing work and having parts rebuilt to assuage any concerns that adjoining landowners may have.
"Although we are only talking about a few centimetres, we believe this is the best solution for all concerned and avoid further delay of these much wanted facilities."
Paul Halfpenny, of Britannia Construction, said: "This situation results from an error in design information provided to us by our lead design consultant.
"This inaccuracy, which was present from the earliest stages of the scheme, sadly wasn't picked up by any members of the client, design or construction teams.
"As soon as the miscalculation was identified we have dealt quickly and efficiently to ensure that our client's instructions are fully complied with, along with our contractual obligations to discharge in accordance with the planning consent."
Steve Wiener, of Cineworld, said: "This is unfortunate news but the good news is that we are still on track to opening our cinema in St Neots, albeit now early in the New Year."