Plans to reopen Burwell Swimming Pool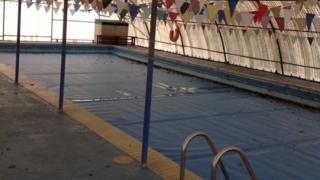 Swimmers are hoping to reopen a village pool which closed two years ago.
The abandoned pool in Burwell, Cambridgeshire, currently has leaky pipes and gaps in the walls.
But Debbie Marsh, secretary of the Burwell Swimming Pool Committee, is confident the £300,000 that is needed for an overhaul of the facility can be raised.
She said: "We'd like to rebuild as an 'eco-pool'. UV lighting to keep it clean and solar panels to heat it."
'Debris blown in'
Ms Marsh said there were fears the existing pool could "implode" due to leaks in the liner and underground pipes.
"It's sad to see it in the state it's in," she said. "All over the winter, because it's not a completely sealed building, all the leaves and debris have blown in."
The pool was built about 25 years ago and is testament to the community's spirit, Ms Marsh said.
"Local electricians, local builders - everyone rallied around, raised money and did the building themselves," she said.
"It's a shame to see it lost."
The group has appealed to local businesses to support the project and is building a case to show there is demand for the pool to reopen.
East Cambridgeshire District Council, which owns the pool, said it had "been in communication with the group behind the development" and would continue to speak to campaigners.