A14 upgrade: Businesses criticise lack of 'commitment'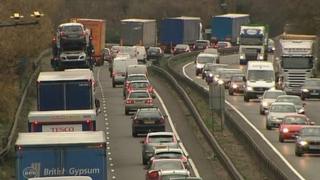 Business leaders pushing for improvements to the A14 say a proposed upgrade may never happen because of a "lack of commitment" by the government.
In July it announced a £1.5bn scheme for the road which links the ports at Felixstowe with the Midlands.
Work could begin in 2018 "subject to a funding package and decisions at the next spending review", it said.
John Bridge, from Cambridgeshire Chambers of Commerce, said funds should be committed to now, rather than later.
The government confirmed in the summer that a "major new road scheme involving tolling will be added to the Department for Transport's (DfT)programme of major projects".
It would be "subject to agreement with interested local authorities on a funding package, and decisions at the next spending review construction", it said.
'Grasp the nettle'
At the last spending review, a Labour-backed £1.1bn plan to widen the road between Cambridge and Huntingdon was dropped by the coalition government for being too expensive.
However, Mr Bridge, who has been campaigning for improvements to the A14 for about 15 years, said he feared the latest plans might go the same way.
"We get a lot of political rhetoric about this, but no practical action," he said.
"Unless someone will fully commit to it and say that [they] definitely will provide the money, we will find, further down the road and despite all the rhetoric... that we go through another election, everybody will review the spending and then say, 'Sorry, we can't do it at that time'.
"If the government was really serious, and really believed the road was such an economic driver for the region, they would grasp the nettle and actually get on with it."
Since the DfT announcement last year, local authorities and business leaders across East Anglia have been discussing ways to help fund the scheme.
In March, the Greater Cambridge Greater Peterborough Local Enterprise Partnership made a "firm commitment" to the scheme, pledging £50m of the £125m expected to be raised locally.