Peterborough double stabbing: Andrejus Ruljevas jailed for life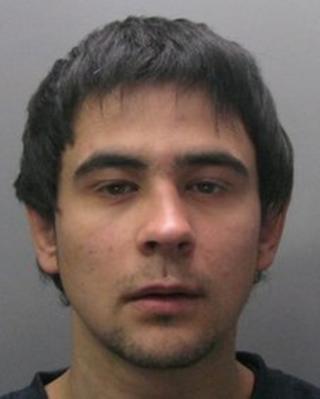 A man who mistakenly stabbed a victim 50 times before realising he had the wrong man has been jailed.
Andrejus Ruljevas, 22, of no fixed address, broke into a house in Peterborough in October and waited for his intended victim to return.
He stabbed Saulius Grigoravicius, 20, who died at the scene, and then stabbed another man, who survived.
He admitted murder and attempted murder and was jailed for a minimum of 20 years at Cambridge Crown Court.
Speaking after the case, Cambridgeshire Police said they believed Ruljevas carried out the attacks over £200 owed to him by the second man.
At about 06:00 GMT, Mr Grigoravicius returned from work and was pounced on by Ruljevas, who stabbed him more than 50 times.
Fought off
During the attack, Ruljevas realised his mistake, left Mr Grigoravicius dying in a downstairs bedroom and waited in the dark for another hour for his intended victim to return from work.
As 22-year-old Vladislavas Kuznecovas walked into the house, Ruljevas attacked him from behind, stabbing him several times.
Mr Kuznecovas recognised Ruljevas and managed to fight him off.
Officers sought Ruljevas, who was eventually arrested in Pizza Express in Ely two days later when he was unable to pay for a meal.
When the restaurant manager said he would call police, Ruljevas confessed to the attacks.
Armed police arrived to apprehend him.
'Saved by rucksack'
Det Ch Insp Tim Redfearn said: "On the morning of his murder Saulius had walked a colleague home to ensure she got there safely, something he had done every time they worked together.
"But tragically for him it was his last act of kindness.
"He was a young man with everything to live for who, tragically, just happened to be in the wrong place at the wrong time.
"Had it not been for the rucksack worn by Vladislavas and the fact he managed to break free we could easily have been dealing with two murders."