Cambridge gorilla mascot head theft deemed 'callous'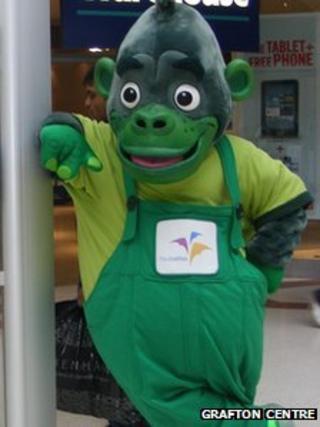 Thieves who stole the head from a gorilla mascot used to entertain a children's club, have been described by Cambridgeshire Police as "callous".
Gordon the Green Grafton Gorilla's head - part of a £3,000 costume - was stolen from a storeroom at a shopping centre.
Centre director Michael Wiseman said children were "devastated" when Gordon did not appear at the weekend, "but we couldn't send out a headless gorilla".
Police are studying CCTV images of three youths making off with the head.
The gorilla costume was made especially for the monthly children's club at the Grafton centre in Cambridge.
'Pretty upset'
"It was stored in a room and they had to scale a considerable wall to get in," Mr Wiseman said.
"They had to seriously go about it to get at the costume."
Gordon's head was last seen a week ago, but it was not until Sunday's kids' club event the theft was noticed.
"The children were pretty upset when he didn't show," Mr Wiseman said.
"As we couldn't really send him out without his head, staff told the children Gordon was taking a nap," he added.
Det Sgt Chris Tatum-Horsfield, investigating, said: "We are appealing to anyone who knows who is responsible for this particularly callous crime.
"The item is quite clearly easily identifiable, and I am certain someone somewhere knows where it is and who has stolen it."