'Antisocial' geese scare Cambridgeshire residents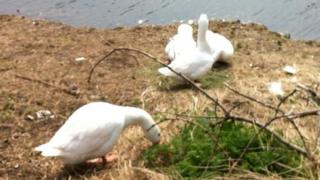 Geese attacking people in a Cambridgeshire market town have been described as anti-social, and the council is being asked to remove them.
The seven birds took up residence by the River Nene in March.
Moira Abbott who lives nearby said they had tried to attack her granddaughter and people's dogs.
Town mayor Jan French said she was discussing concerns with the council, but the geese could be protected as it was now their breeding season.
Mrs Abbott said: "I was with my two-year-old granddaughter and the seven geese rushed at us with their wings outstretched.
"They were honking, hooting and were very aggressive.
"My granddaughter was absolutely petrified. Obviously she's not as big as a goose."
'Bird wars'
She has called for the "anti-social" birds to be removed from the area around Nene Parade.
"They're dangerous. They're like guard dogs. If seven dogs were loose on the riverbank they'd be rounded up and taken away," she said.
"It's not because people are approaching them. The geese are attacking without provocation."
Mrs French added: "In some peoples' eyes they may be a nuisance, but they do have an element of protection especially since the breeding season started. There is a limit to what one can do to move them on."
Stan Rust who lives on a riverboat said much of the aggression was caused by resident swans "dive-bombing" the geese, which had taken over their territory.
"People should just ignore the geese. They're doing what wild animals do, trying to protect what they now see as their territory," he said.
Paul Stancliffe, from the British Trust for Ornithology (BTO), said: "They'll find quite a good living on the river so they're likely to stay for quite a while.
"My money would be on the swans, though, because they're just coming into their breeding season.
"They will dominate that territory and the geese will get quite a hard time from them."