Peterborough travellers' site shootings: Two found guilty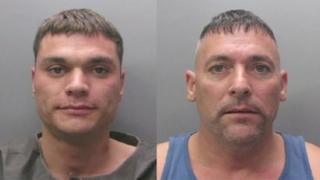 A father and son have been found guilty of shooting three men at a travellers' site in Peterborough.
Armed police were called to Oxney Road on 17 September after three men sustained gunshot wounds.
John Smith, 23, and his father, Fred Smith, 47, both of Edgerley Drain Road, Peterborough, had pleaded not guilty.
A jury found them guilty at Peterborough Crown Court on Wednesday. They will be sentenced on Friday.
The shootings were described in court as a "Rambo-style attack".
Stomach wound
The prosecution said Smith Jr got out of a car and began shooting at people.
The court heard the victims were running for cover but could not get away.
The three men, Thomas Holmes, James Holmes and Tony Draper, were injured but all survived.
The most seriously hurt was Mr Draper, who had to be airlifted to Addenbrooke's Hospital in Cambridge after being shot at close range in the stomach with a 12-bore shotgun.
Judge Nic Madge said medical assistance for the trio had been delayed because police had wanted to secure the site.
'Firing line'
Smith Jr was convicted of the attempted murder of Mr Draper, and two counts of grievous bodily harm relating to James Holmes and Thomas Holmes.
He was also found guilty of possession of a firearm with intent to endanger life.
Smith Sr was found guilty of three counts of grievous bodily harm.
He was found not guilty of possession of a firearm with intent to endanger life.
Det Insp Dave Grierson, from Cambridgeshire Police, said: "The Smiths decided to take the law into their own hands.
"Thankfully, no one was killed but we could easily have been dealing with a murder inquiry.
"Whatever the reason for their actions these men showed no regard for the law or the lives of those in their firing line."