Peterborough City Hospital bed shortage alert reduced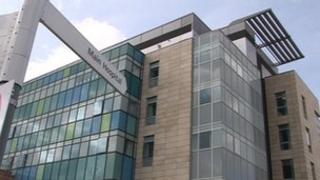 A hospital which cancelled 50 operations and turned people away from A&E earlier this week because of a bed shortage, now has "sufficient" beds.
Peterborough City Hospital declared a "major incident" on Monday because of high levels of illness in the region.
By Tuesday its status had been reduced to "black alert" and it has now been further reduced to "red".
A spokesman said: "The hospital remains very busy... but we have freed up sufficient beds for today's patients."
The Peterborough and Stamford Hospitals NHS Foundation Trust spokesman added: "We have an improved situation at Peterborough City Hospital.
"Our current status is 'red', which means there are some beds available, although these are limited.
"This is an improvement from earlier in the week, when our 'black alert' status meant there were no available beds at all."
The shortage at the 612-bed facility had been made worse by a "shortfall of places for hospital patients to be discharged to" in the community, he said.
He confirmed the hospital was continuing to work with other local health organisations to "closely monitor the situation" and said it would make "every effort to re-schedule... surgery for as soon as possible".