Newtown shootings: Dylan Hockley remembered with charity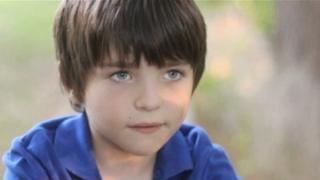 The grandparents of a British boy shot in the Newtown school massacre in America are raising money for charity in memory of the child they said referred to himself as a "beautiful butterfly".
Dylan, six, who had autism, had moved to the US two years ago from Eastleigh, Hampshire, with parents Ian and Nicole and older brother Jake.
On the afternoon of Friday 14 December, Tom and Ivy Hockley picked up the telephone at their home in Whittlesey, Cambridgeshire, to hear their son, Ian, saying: "I wanted you to hear this from me, first."
He told the couple there was a "lockdown" at his sons' school, Sandy Hook Elementary, and he would call when he knew more.
Wings of Change
At 21:30 GMT the Hockleys heard the news they had dreaded.
"We have lost Dylan."
His older brother Jake, also a pupil at the school, was unharmed.
In all, 20 children and six teachers died that morning at the school in Newtown, Connecticut, shot by Adam Lanza, who went on the rampage after killing his mother, Nancy.
He took his own life as police approached him. Officers said when they found the killer's body he was lying with hundreds of unspent rounds.
"Dylan's one-to-one teacher [Anne Marie Murphy] was actually shielding him and two other children when she died," Mrs Hockley said.
"They gave her husband - and her two lovely daughters - a medal for that."
Ian Hockley's company, IBM, arranged for his parents to be flown over to America on the Sunday after the shooting.
"We had a police escort to Sandy Hook," Mr Hockley said.
"Even when we got there, we weren't allowed to go anywhere without a police escort.
"All the families of those who had died had their own state trooper and local police outside their house - all 26 victims' houses."
At a memorial service held for Dylan on 21 December, Jake released a large bunch of balloons in his brother's favourite colour, purple.
Back home in the UK, his grandparents began raising money for an autism charity, supporting a fund set up by Dylan's own parents - Dylan's Wings of Change.
'Dylan's day out'
Local businesses in their Cambridgeshire town have sold cakes with purple butterflies on them.
Later this month the family are holding a coffee morning with more purple-iced cakes, purple balloons and purple butterflies.
"We read a lot on the internet about Newtown doing everything in purple," Mrs Hockley said.
"They've got purple butterflies all over the place.
"Dylan likened himself to a 'beautiful butterfly' and that has kind of caught on, and the colour purple," she added.
The couple say the majority of funds raised in Dylan's memory will be donated to the Peterborough branch of the National Autistic Society.
"I'd like it to go to something like a 'Dylan's day out' for the children," Mrs Hockley said.
She suggested they could be taken to a soft play area at Northamptonshire theme park, Wicksteed Park.
"I'd like the children to do fun things because that's all Dylan did. He just had fun."
Ian and Nicole Hockley have told the BBC they intend to remain living in Newtown, describing it as a "wonderful place" and adding "this single event isn't going to undermine that".
"They're surviving," Mr Hockley said.
"They have lots of friends out there. Newtown is united."