Cambridge University Austin Seven roof stunt recreated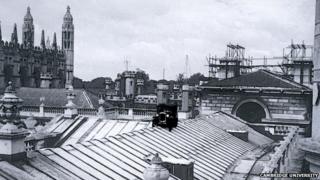 Fifty-five years after Cambridge University students hit the headlines by hoisting a van on top of the Senate House, the stunt is to be re-staged.
A battered Austin Seven appeared on the roof overnight on 8 June 1958.
Cambridge Austin Seven and Vintage Car Club and a university society will build a scale mock-up of the Senate House in a city park this summer.
Club member Basil Jacques said: "We may not use an Austin Seven this time though, as they're far too valuable."
The original prank, carried out by 12 university engineering students, was widely reported in the press at the time.
'Bit of fun'
"They found a derelict Austin Seven van in Harston and towed it into Cambridge," Mr Jacques said.
"They had to take out the engine and remove the wheels to make it light enough to winch up to the roof, and hauled it up using cables and scaffolding they'd stolen from King's College.
"Then they balanced the wheels against it to make it look like it really was a whole vehicle," he added.
"Then they sat it up there and went home - and there it was in the morning."
Mr Jacques said the perpetrators, mostly from Gonville and Caius College, were eventually caught when it became clear they had used planks to scale the roof between that college and the Senate House.
Mr Jacques came up with the idea of re-staging the prank to "add interest" to the car club's annual rally.
"We wanted to use the same building and do a proper reconstruction, but it's just not possible in the middle of the city these days," he said.
"We met with the council and university to discuss our plans, but the road there is pedestrianised for six days out of seven and it was much too complicated to get around that."
Instead, on 8 June the club's 50 members will drive from Audley End in Essex to Parker's Piece in Cambridge, less than a mile (1.6km) from the site of the original stunt.
Members of Cambridge University Officers' Training Corps (CUOTC) have agreed to build a platform representing the roof of the 70ft (21m)-high Senate House, and a vehicle will be hoisted to the top.
"I was looking around for a body of young men capable of re-enacting it, and the corps' new colonel was very enthusiastic," Mr Jacques said.
Staff Sgt Carl Webber, from CUOTC, said: "We're in the very early planning stages, but we hope the structure we use will be about 20ft (6m) high.
"We'll use scaffolding but we do want this to look the part, so the plans are to have a design of the Senate House painted on either fabric or light wood so the poles are completely covered."
Mr Jacques added: "It's just a bit of fun, but we'll also be raising money for Combat Stress and Jimmy's Night Shelter."