River Nene chemical spill wiped out invertebrates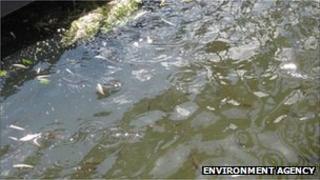 A chemical company has admitted causing pollution in and around Peterborough after vandals spilled pesticides from its factory into the River Nene.
The chemicals came from Safapac, Orton Goldhay, where the vandals turned on the taps from storage tanks, last June.
Pollutants travelled downstream killing wildlife and threatening shell fisheries in the Wash.
Peterborough magistrates said the offence was so serious a crown court judge must pass sentence.
The majority of invertebrates were wiped out along the affected stretch from Peterborough to the sea, the Environment Agency said.
Fishermen banned
The number of fish killed was thought to be "well in excess" of an estimated 4,000.
The spill on or around 16 June affected wildlife over several days before water quality returned to normal and fish were no longer being affected.
Norman Robinson from the Environment Agency said 100% of invertebrates including pond skaters, water shrimps, water snails, leeches, and Mayflies, close to the source of the chemical spill, had died.
Further down the river about 80% of creatures vital to the food chain were affected.
Shell fishermen from Kings Lynn in Norfolk were banned from the Wash for 24 hours because of fears that it would be affected.
Tests for contamination of shellfish in the Wash later proved negative.
The date for sentencing is to be fixed later.