Peterborough's plans for solar farm held up by survey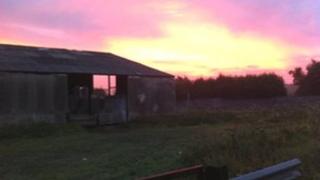 Plans for a 900-acre (364 hectare) renewable energy park in Cambridgeshire have been delayed while archaeological work takes place.
Peterborough council wants to build solar and wind parks at three sites it owns outside the city.
The plan faced criticism from the National Farmers' Union for taking "some of the best farming land in the country" out of production.
Archaeologists will investigate if the land was once an ancient burial ground.
The council had hoped the park would go before its planning committee in March, but it will now wait for archaeological surveys to be completed.
A solar-only park is estimated by the council to provide it with an income of £30m over 25 years, while it estimates a joint wind and solar park would generate £100m over 25 years.
The proposal has attracted opposition from city council tenant farmers who would be displaced if the park goes ahead.