Hauxton families sue company over odour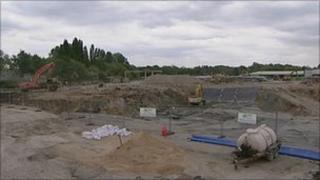 Cambridgeshire villagers are to take legal action against a company over a smell caused by clean-up work at a former chemical factory site.
Residents of Hauxton, near Cambridge, complained of a strong chemical odour during the decontamination of the Bayer CropScience site in 2010.
Eighteen families have instructed environmental solicitors Hugh James to pursue Vertase FLI Ltd.
The contractor has declined to comment on the matter.
Agrochemical contamination
The factory was established in Hauxton in the 1940s and produced pesticides and herbicides. It closed in 2004.
Outline planning permission for 200 houses to be built on the site was granted by South Cambridgeshire District Council in 2010, on condition the agrochemical contamination was cleaned up.
During work to decontaminate the area, residents complained about "noxious fumes" and formed a group, HauxAir, to campaign for clean air in the village and surrounding areas.
Gwen Evans from Hugh James said: "The evidence we have seen suggests that residents have been exposed to an unacceptable level of odour and other problems from the site.
"People in these circumstances are entitled to compensation for what they have suffered in the past, and an injunction to prevent the continuation of this nuisance in future."
In 2010 the Environment Agency said doctors, engineers and scientists had investigated the odour and determined it had no effect on human health.
Developer Harrow Estates, which owns the site, said it had completed its decontamination work in November 2011.