Cambridge University Hospitals' finances a 'big focus', says new chief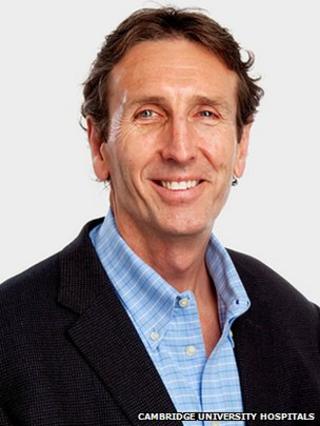 The new chief executive of two Cambridge hospitals has said keeping finances in order is a "big focus".
Dr Keith McNeil, the ex-chief executive of Australia's north Brisbane health system, has taken over the running of Addenbrooke's and Rosie hospitals.
The Cambridge University Hospitals Trust was previously criticised over its poor finances and a health watchdog recommended a managerial shake-up.
Dr McNeil said he wanted to achieve "high quality" and "sustainable" care.
In November, regulator Monitor found the trust in "significant breach of its terms of authorisation" due to poor financial performance, multiple occurrences of 'never events' - including where wrong patients were operated on - and a failure to improve waiting times.
The watchdog recommended it reviewed its management and instructed it to appoint "an experienced turnaround expert" at board level.
Dr McNeil, an expert in lung transplantation and pulmonary vascular disease, formally took up the running of the trust on Monday after being appointed at the end of last year.
He said: "My job is to make health care affordable.
"There has to be good conversations that go on at all levels of society to determine what we want to provide, and then our job is to try and make sure that we can afford to provide that in a high quality, sustainable way, so it's a big focus."
Dr McNeil said one way of achieving his aim would be to implement a single system of healthcare throughout the primary, community, secondary and tertiary hospital sectors, so that in the next 10 to 20 years each area can experience the same level of quality.
In November the trust's chair Jane Ramsey said she was "confident" Dr McNeil had the "leadership strengths and operational performance skills needed to lead us".