'Structural failure' blamed for Ely helicopter crash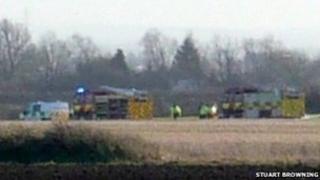 A structural failure caused a helicopter to crash, killing the pilot, an investigation has found.
Wreckage was spread across 500m (1640ft) when the aircraft came down in fields at Witchford, near Ely, in Cambridgeshire, in January 2012.
Robert Crofts-Bolster, 50, was killed when the two-seater hit the ground.
The Air Accidents Investigation Branch (AAIB) found there was a rotor blade fault that caused them to strike the craft and separate.
Mr Crofts-Bolster was an experienced pilot with nearly 5,000 flying hours and was both a flight instructor and examiner.
'Roll left'
The AAIB inquiry discovered that he had an undiagnosed condition which could cause symptoms including palpitations, tremors and headaches.
It said although it was unlikely Mr Crofts-Bolster had suffered an "acute episode", it could not discount it.
The investigation also raised the possibility that the pilot, who held a private licence, may have moved the helicopter suddenly to avoid birds.
The pilot did not refer to any problems while flying the Robinson R22 in good weather on a route from Manston Airport in Kent to Fenland Airfield, near Spalding in Lincolnshire.
A witness who saw the helicopter fly over his farm thought it had started to perform "some aerobatics because it suddenly began to roll left".
Another witness heard a "pop" like a paper bag being banged and both people saw objects "separate from the helicopter" before it fell to ground.
Note: We changed this story on 15th February 2013 to reflect the fact that the accident was caused by structural rather than mechanical failure.