Addenbrooke's sees 33% drop in violent assault patients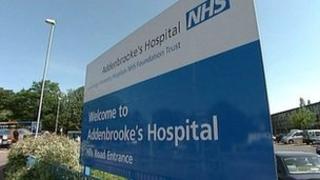 A hospital in Cambridge says it has seen a 33% reduction in victims of violent assaults since it began sharing information with police in 2007.
Accident and emergency departments are meant to share details about where knife or gun attacks are happening with the police.
An audit found only a third of areas in England were carrying out the scheme.
Dr Adrian Boyle, consultant in emergency medicine at Addenbrooke's, said being involved was a "no brainer".
The hospital shares non-confidential data with Cambridgeshire Police every month.
Patients admitted to A&E as a result of a serious assault are asked where the incident took place and whether a weapon was involved.
The hospital said 847 patients reported violent assaults last year, down from 1,040 in 2011.
The peak was in 2007, when 1,270 violent assaults were recorded.
Dr Boyle said: "We know we get patients in the emergency department who are not going to report the assault, only 25% of such incidents are ever reported to the police.
"We're too busy to go into much detail but the data we share has been very useful."
Ch Insp Neil Sloan said the data gave police an idea of where violent crime was occurring, which can be backed up using other information.
"[It] assists us in identifying areas of under-reporting," he said.
"People will tell hospital staff, but not police."