Cambridge patient travels to London for fortnightly treatment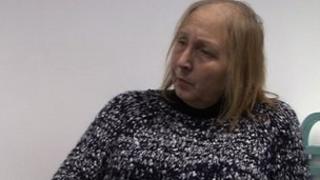 A dialysis patient who lives close to a Cambridgeshire hospital is travelling nearly 60 miles (96km) to London for her fortnightly hepatitis treatment.
Glyn Huskisson, 59, of Babraham, lives within five miles of Addenbrooke's Hospital in Cambridge, but the NHS trust will not treat her.
Mrs Huskisson, whose treatment costs about £30,000, says the long journeys are "incredibly stressful".
Addenbrooke's said it sympathised but it had to prioritise.
The mother-of-one was found to have Hepatitis C when she was diagnosed with chronic renal failure about five years ago.
'Stressful'
For the past 13 weeks she has been travelling to King's College Hospital in south London, which agreed to give her a 36-week course of treatment of a drug called Boceprevir.
"It's incredibly stressful," she said. "In a way I'm lucky that I've got the treatment but I have to do this journey to get it.
"I'm exhausted, I come home and just collapse into a chair."
She said the cost of the treatment was being met by NHS Cambridgeshire Primary Care Trust, but she had to pay her own fuel costs of about £30 per trip.
Dr Kosh Agarwal, clinical director at King's College, said: "There's no doubt it's very frustrating for her.
"Of course I think her care might be smoother if she didn't have to travel for two hours."
Addenbrooke's would not say how many hepatitis patients it was treating with Boceprevir.
A hospital spokesperson said: "All patients who meet the guidelines are now being offered treatment with Protease inhibitors [which includes Boceprevir] for hepatitis C virus infection.
"As the numbers are considerable, the treatment toxic and supervision is intense, we are treating according to greatest need first.
"We sympathise with the patient's situation and feel we have done everything we could for her and that we have tried to be open and transparent.
"The case is now with the independent ombudsman."
In a statement, NHS Cambridgeshire said: "If a patient meets the criteria then we will fund the drug.
"If a drug is supplied through a London centre then there is an additional cost for London weighting."