Dr Rowan Williams becomes patron of Cambridge Foodbank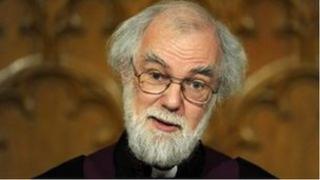 The former Archbishop of Canterbury, Dr Rowan Williams, has become patron of the Cambridge City Foodbank.
It is his first patronage since becoming Master of Magdalene College, at Cambridge University, last month.
The city foodbank runs five centres providing emergency supplies to families referred by various agencies.
A spokesman said Dr Williams chose the charity as he "recognised the urgency of need and the capacity of churches to help".
Dr Williams said: "I am eager to support any steps that... help the spiralling number of people in our own communities who can't afford to feed themselves adequately because of the pressures of benefit changes, unemployment and debt.
"I'm very glad to see that the local Christian communities are uniting to meet this challenge."
'Poverty and deprivation'
Co-ordinator of the Cambridge Foodbank, Prof Dave Goldspink, said demand for the service had almost doubled in the past year.
Since April the distribution centres in the city, Ely and Peterborough had helped almost 3,000 people, he said.
He added that an "increasing need among people who are in work" in addition to those who were not, had prompted the Cambridge bank to open two new centres, bringing the total in the city to five.
Prof Goldspink announced new distribution centres would open in Arbury and Trumpington, which he described as areas of "poverty and deprivation, and therefore in the greatest need".
"It is not a rosy picture but we are growing rapidly and the people of this county have been extremely generous," he said.
"But our greatest current need is sponsorship to lease an appropriate warehouse to receive, handle and distribute the food."
The county's banks were set up with support from national foodbank charity, The Trussell Trust.