Staffie puppy 'lucky' after being found in a bag in Cambridge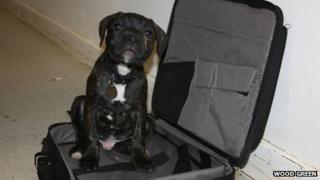 A puppy found abandoned in a zipped-up laptop bag in Cambridge is "lucky to be alive", an animal charity has said.
The 10-week-old, who has been named Apollo, was found in Devonshire Road on Wednesday. Another Staffie puppy was found dead in a nearby street.
An RSPCA spokeswoman said: "I don't know why people do this... dumping is not an option and we will prosecute."
Apollo is said to be in good health and is being looked after by the Wood Green animal charity in Godmanchester.
Deputy head of animal welfare at the shelter, Linda Cantle, said: "This little dog is lucky to be alive.
"Apollo would have been hot and barely able to move or even breathe.
"We would urge anyone no longer able to care for their pet to act responsibly and call a rescue centre like Wood Green."
The RSPCA spokeswoman added: "It is the responsibility of anyone who has a dog to be able to afford to pay for their pet's needs, as they would with their own family."