Train delays due to heavy snow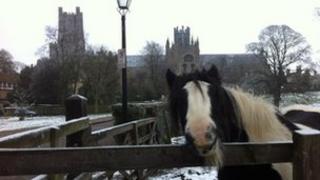 Heavy snowfall is leading to trains between London Kings Cross and Peterborough being delayed by up to 60 minutes.
Cambridgeshire, including Peterborough, are on yellow alert to "be aware", said the Met Office.
Snow started falling in the middle of the morning in most areas and continued throughout the day.
Temperatures are expected to remain below freezing, and police have warned drivers to take extra care.
More snow is expected across the county throughout the weekend and on Monday, the Met Office has said.
Sgt Gordon Murray, of Cambridgeshire Police, said: "With the current weather conditions it is important people allow plenty of time for their journey and drive to the conditions of the road."
Gritter lorries have been working across the county.
However, motorists are being warned to take extra care even though the major road networks have been gritted.