£3.3m revamp at Peterborough railway station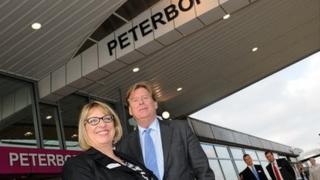 A new-look railway station in Cambridgeshire has been unveiled after a £3.3m revamp.
Peterborough's station now has a "bigger and brighter" concourse, additional electronic displays, new seating and automatic ticket gates.
It is part of a £46m overhaul of the station, which is expected to be completed by the end of next year.
Transport minister Simon Burns said: "The journeys of four million passengers have just got better."
Councillor Marco Cereste, leader of Peterborough City Council, said it was "vital" to provide a good impression for people arriving in the city.
He said: "With future expansion work to increase capacity set to be completed late next year this project is crucial to realising our ambitions to create a bigger, better Peterborough."
Further work on the station will see improvements to bridges, lifts, platforms to accommodate longer trains and a new "goods loop" to increase freight capacity, Network Rail said.