Sally McGrath killing: Paul Taylor will not give evidence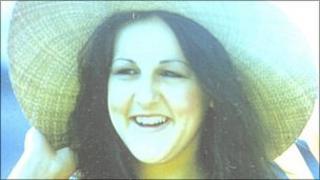 A 60-year-old man charged with murdering a Peterborough woman more than 30 years ago has declined to give evidence in court.
Former soldier Paul Taylor, of Fareham, Hampshire, denies murdering Sally McGrath, 22. He was charged after a cold case review which started in 2009.
Her body was found at Castor Hanglands, Cambridgeshire, in March 1980.
Chelmsford Crown Court heard Mr Taylor had been an "engaging flirt" with "the capacity to become violent".
Miss McGrath was last seen alive on 11 July 1979 at a Peterborough hotel with Mr Taylor, the court heard.
When her body was found it was badly decomposed and police at the time could not recover any forensic evidence.
Mr Taylor also denies three charges of rape, one of attempted rape, one of another serious sexual offence and one of indecent assault.
The alleged offences relate to three different women.
'Ladies' man'
Orlando Pownall, defending, said Mr Taylor insisted the alleged sex attacks were all either consensual or did not happen.
He read the court several statements from people who knew Miss McGrath, some of whom referred to drug-taking and her "carefree" attitude to hitch-hiking.
It was also claimed that Miss McGrath regularly visited an American airbase at Alconbury and was friendly with several airmen.
The court heard in a statement from Brenda Burns, given to police working on the original inquiry, that Miss McGrath had once got into an argument with an airman, who then punched her and threatened to kill her.
Prosecutor Karim Khalil QC earlier told the court that Mr Taylor was a "reasonably good looking and physically strong young man" in the 1970s.
"He was brimming with confidence and had the capacity to be an engaging flirt and a ladies' man," he said.
"But if he did not have his own way he had the capacity to become violent very quickly. He used this violence to force young women into submission or simply have his way with them."
Mr Pownall said Mr Taylor's wife, Beverley, would also not give evidence in court.
The trial continues.