'At risk' windmill to be restored in Cambridgeshire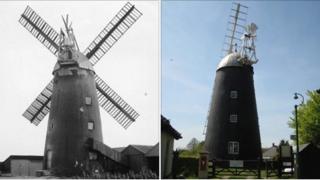 Restoration work is set to begin on a 200-year-old Grade II listed windmill in Cambridgeshire thanks to a Heritage Lottery grant of £417,000.
Stevens' Mill in Burwell was last used in 1957 and has been closed to the public for more than two years.
In 2010 it was placed on English Heritage's Buildings at Risk Register.
A spokesman for Burwell Museum Trust, which owns the mill, said restoration was expected to take about three years, after which it would be reopened.
In addition to the restoration of the windmill, the funding will be used to develop learning activities within the museum, which is next to the mill, improve displays and create two heritage trails.
Paul Hawes, chairman of the museum trustees, said it would be "wonderful to be able to open it fully to the public and share this part of our local history".
Robyn Llewellyn, head of Heritage Lottery Fund East of England, said: "This project will enable them to do exciting work to conserve the mill, reach wider audiences and provide a future for the site."