Chilford Hall blaze halts firefighters' wedding plans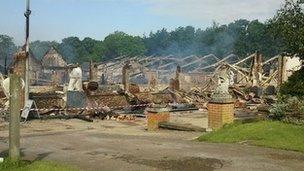 Two firefighters say they may have to postpone their marriage after a blaze gutted their Cambridgeshire wedding venue.
Annmarie Allen and Steve Rogers, who work in Hertfordshire, planned to hold their reception at Chilford Hall, in Linton, in August.
The venue's barn and adjoining rooms were razed to the ground on 13 June.
The "devastated" couple said finding a similar venue on the bank holiday weekend was "almost impossible".
Miss Allen, who grew up in Linton, said she had specifically booked the venue as it had "always been my dream to get married in a barn".
"It was the first place we looked at, and the only place," she said.
"But sadly now it looks like we won't get our dream."
'Totally gutted'
She said because the couple worked different shifts, if they could not find another venue they would have to postpone the wedding until April.
Mr Rogers said: "It's very hard being on the other side of a fire.
"As firefighters we turn up, put a fire out and then go away. We don't really see the after-effects.
"But this time it's horrible. It's totally gutted."
Spokeswoman Laura Hazell said despite the barn fire, Chilford Hall, which consists of a vineyard and other conference facilities, had so far not cancelled any weddings.
"We erected a marquee for a wedding two days after the fire, and the couple was still able to celebrate," she said.
"We will make a decision about how to move forward when the investigation is complete, however, within the next few weeks we hope to meet with planners to discuss that".
Two men from Haverhill, Suffolk, both charged with two counts of arson with intent to endanger life, have been remanded in custody following an appearance at Cambridge Magistrates' Court on Thursday.