Queen's Birthday Honours: Mary Archer made Dame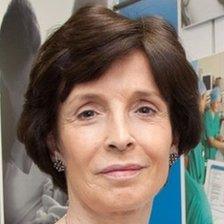 Cambridge University Hospitals chairman Mary Archer has been made a Dame in the Queen's Birthday Honours list.
Dame Mary, who has held the post of chairman for 10 years, received the honour for her services to healthcare.
She said the award was a tribute to the "skills and dedication of the thousands of staff" working for the Trust.
Karen Castille, the Trust's interim chief executive, said Dame Mary had shown "ambition to innovate and drive up standards for patient care".
The Trust said Dame Mary had helped pioneer an information pack for prostate cancer patients, which was commended by the NHS Institute for Innovation and Improvement as a blueprint for other programmes.
She also developed the Addenbrooke's Abroad programme which enables staff to share their skills overseas on a voluntary basis to improve health systems in developing countries.
Dame Mary said: "I am greatly honoured by this award, as I truly believe in the NHS and its enduring value to society.
"As a scientist, I have seen how innovation in UK healthcare can arise from close collaboration between the NHS and the scientific and academic communities."
Professor Richard John Evans, Regius Professor of History from the University of Cambridge, was appointed Knights Bachelor for services to scholarship, as was Professor William Timothy Gowers, Royal Society Research Professor at the same university, for services to mathematics.
Also from the University of Cambridge, Professor Mary Longstaff Jacobus was appointed CBE for services to literary scholarship and Professor David Michael Garrood Newbery also became an CBE for services to economics.
Mary Bliszczak, a school catering training co-ordinator and cookery volunteer with Cambridgeshire County Council was awarded an MBE for her services to school food.