Llywelyn Thomas murder inquiry: Rare coin sought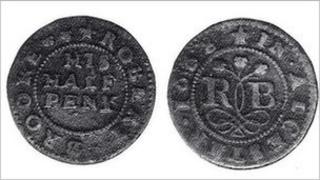 Detectives investigating the murder of a 76-year-old man in Cambridgeshire have released a picture of a rare coin thought to be missing from his house.
Llywelyn Thomas was found dead in the bedroom of his home in Chittering on 18 December, following a botched burglary.
The 1668 Robert Brooke halfpenny was one of 50 to 100 coins in a burgundy folder believed to have been stolen along with three watches and a wallet.
Officers are also looking for a poker which may have been the murder weapon.
Det Ch Insp George Barr, from Cambridgeshire Police, said: "These are very distinctive coins and I would urge any collectors who have been offered them to call police."
'Distinctive' watches
The Robert Brooke halfpenny has the words "His Half Peny" on one side and the initials "RB" on the other.
Following a BBC One Crimewatch appeal earlier in the week, officers received a number of calls about Mr Thomas' silver Rover 75 estate car, which was also stolen during the burglary but later found dumped in Church Lane, Milton.
Information was also received about the three "very distinctive" watches taken from the house.
Police believe Mr Thomas was murdered on the night of 17 December between 21:24 GMT and about 22:20 GMT.
A retired farmer, he had moved to the area from south Wales 12 years ago to be nearer his family.
Rewards totalling £50,000 have been offered for information leading to the conviction of those responsible.
The family is offering £20,000, Crimestoppers a further £10,000 and Cambridgeshire police £20,000.