Flood fear stops Peterborough river charity duck race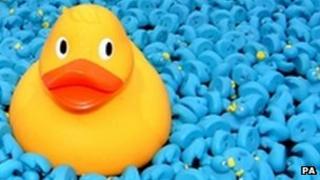 A charity duck race has been called off on Saturday amid concerns that a Cambridgeshire river could burst its banks following heavy rainfall.
The Environment Agency has advised organisers that the River Nene, in Peterborough, is too dangerous to race the hundreds of plastic ducks.
An agency spokesman said: "The river around the Town Bridge area has not breached its banks, but is very full."
He added the fast-flowing water would make the duck race too dangerous.
Councillor Paula Thacker, mayor of Peterborough, had organised the race to raise money for her chosen charities.
'Duck scooping' danger
Kidney Research UK and the Royal British Legion's women's section were expected to benefit from the release of hundreds of sponsored ducks on to the river.
Marie Skells, from the mayor's charity committee, said she had been in regular contact with the Environment Agency in the weeks leading up to race.
"There were obvious concerns because of the incredible amount of rain we have had," she said.
"But there are specific concerns, including the safety of the local sea cadets who are tasked with scooping the ducks out of the water at the end of the race."
Although the Environment Agency said it did not expect the river level to drop in the next few days, organisers hope the race can take place later in the month.