Fitzwilliam theft: Museum appeals for return of art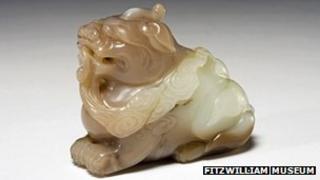 A curator at Cambridge's Fitzwilliam Museum, where Chinese art thought to be worth at least £18m was stolen, has said the crime was "incredibly distressing" to staff.
Police believe up to four men stole 18 mainly jade items from the museum at about 19:30 BST on 13 April.
Dr Victoria Avery said the pieces were of international importance and were on display for the public to enjoy.
An appeal for information will feature on BBC One's Crimewatch on Tuesday.
Ms Avery, keeper of applied arts at the museum, which includes the oriental art held in its permanent collection, described the items as "very important cultural artefacts".
The items, which included six pieces made during the Ming dynasty, were given as gifts or bequests to the museum.
'Please help'
"They are of great value both to experts in Chinese art, to the local Chinese community and to the general public," Ms Avery said.
"People donate these objects because they want them to remain in the public domain.
"We really want them back so they can once again be enjoyed by the public both nationally and internationally."
She added she was horrified and greatly saddened by the theft.
"As curators these pieces are in our charge.
"They are almost like our children and when they are snatched from us in this way, it's obviously incredibly distressing.
"Please help us to get our babies back."
The museum and Cambridgeshire Police have refused to comment on security at the museum.
The thieves are believed to have been in the building for "a matter of minutes".
CCTV images showing a white VW van thought to have been used in the raid are to feature on the Crimewatch programme.