Fitzwilliam Museum theft: Up to four burglars involved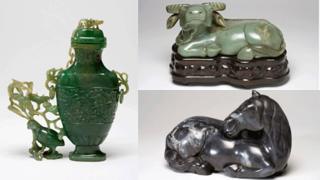 Up to four people were involved in the theft of Chinese works of art worth at least £18m from the Fitzwilliam Museum in Cambridge, police believe.
Detectives said the burglars had entered the back of the building at about 19:30 BST on 13 April.
Officers said the group was inside the building for a "matter of minutes" before fleeing in a getaway car.
The 18 items stolen were mostly jade and part of the museum's permanent collection.
A Cambridgeshire police spokeswoman said officers were checking CCTV from local car parks and park-and-ride facilities as part of their inquiries.
'Number one priority'
Det Ch Supt Karen Daber, who is overseeing the investigation, said: "We know these people acted quickly and were into the museum and out within a matter of minutes.
"However, I am still confident people who were in the area between 18:00 and 20:00 BST may have seen something significant that could help our inquiries.
"This remains the force's number one priority and we will be working throughout the weekend and beyond in our efforts to trace those responsible and recover these works of art.
"We are following up a number of inquiries and continue to examine CCTV footage and work closely with the Fitzwilliam Museum."
Police were questioning people in the area on Friday in an attempt to "jog memories".
'Highly important'
Among the items stolen in Cambridge were six pieces from the Ming dynasty, including a jade 16th Century carved buffalo, a carved horse from the 17th Century and a green and brown jade carved elephant.
A jade cup and vase which is carved with bronze designs was also stolen along with an opaque jade brush washer.
Eight pieces from the Qing dynasty were taken, and a table screen from the Qianlong period and a jug and vase from the 18th Century make up the rest of the stolen items.
A University of Cambridge museum spokesman said the artefacts were a "highly important" part of its collection and described their loss as a great blow.
Cambridgeshire police have refused to speculate on whether the theft is linked to a break-in earlier this month at the Oriental Museum at Durham University, where Chinese jade and porcelain items were also stolen.