Lambs born live on MyFarm community farm webcam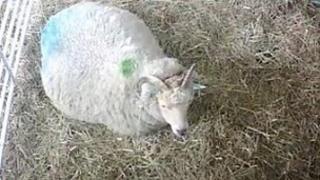 A sheep that starred in a Cambridgeshire community farm's webcam project is to give birth on camera.
In October, the National Trust's MyFarm initiative, based at Wimpole Hall, fitted a "ram-cam" to a ram in order to show the mating habits of sheep.
Now, Ewe 3462, who was mated with the ram, is due to give birth in a pen fitted with a"lamb-cam".
Farm manager Richard Morris hopes "son of ram-cam" will prove as popular with the public as its predecessor.
He expects the ewe to deliver her lamb "within the next few days".
She was one of 30 Portland sheep introduced to Paolo the ram in late autumn.
The farm moves its sheep into small pens after the 145-day gestation period, in order to monitor them and look after any mothers or lambs that might need extra attention.
The National Trust started the MyFarm project in May 2011. Its aim is to reconnect people with farming methods.
For a small subscription, "virtual farmers" are able to help make decisions about how the farm is run and which crops are sown.