Farmers credited with Fowlmere reed bunting increase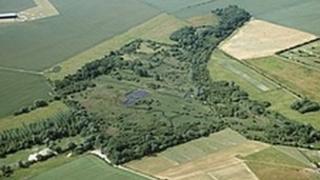 A sharp rise in the numbers of a bird species which had been on the decline at a Cambridgeshire reserve is down to changes in farming, bird experts say.
Workers at the RSPB's Fowlmere reserve counted 1,000 reed buntings on one day in February compared to 200 in 2006.
Farmers nearby have planted plots of seed-rich plants in an effort to boost bird populations.
Reed bunting numbers dropped to their lowest levels in the UK for five years last year.
The British Trust for Ornithology (BTO) blamed last year's cold snap for the 23% decline in the birds, according to its annual survey.
'Vital winter food'
The birds rely on farmland for food and roost overnight in reed beds, like those at Fowlmere.
Richard Winspear, RSPB farmland advisor, said: "There are several farmers in the area who want to do their bit for nature and one of the measures they have taken is planting patches of wild bird seed mix.
"This provides vital winter food for seed-eating birds like reed buntings, corn buntings, yellowhammers and linnet."
Robert Law, who farms near the reserve, said: "We are the custodians of the countryside and have a duty to ensure there is always space for nature.
"It's wonderful to see that it is giving local wildlife populations a boost."
Mr Winspear said the conservation-friendly farming methods were "backed by rigorous scientific evidence".
"If there were more of these measures in our countryside then we could reverse farmland bird declines," he added.
BTO surveys reveal there has been a 48% decline in farmland birds since 1970.