Runaway wallaby returned to Cambridgeshire owner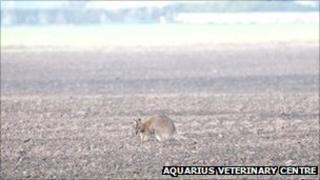 An expectant wallaby which went on the run in Cambridgeshire has been returned safely to its mate, by the RSPCA.
Two-year-old Sheila escaped from her enclosure near Soham on Sunday.
After chasing her around nearby fields for four hours, her owner eventually called in the experts.
RSPCA officer Mark Thompson, accompanied by a vet, said: "In my 25 years with the RSPCA this is the first wallaby I have had to tranquilise."
He added: "Wallabies can travel at exceptionally fast speeds - up to 30 mph (50 km/h) and cover ground exceptionally quickly - so it was essential that we managed to get her back safely.
Sheila, who is carrying a very young joey, has now been reunited with her mate, Bruce.
She was said to be "none the worse for her adventure", however, her owner was reportedly "exhausted" by Sheila's bid for freedom.