Inquiry into surgical errors at Addenbrooke's Hospital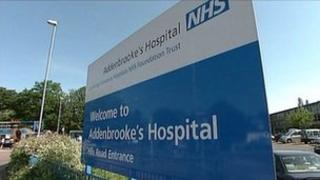 A leading hospital has apologised after four major surgical mistakes were made in a six-week period.
In one incident, surgeons operated on the wrong part of a patient's body at Addenbrooke's Hospital in Cambridge.
A wrong implant was inserted in another operation at the hospital, while surgical items were left inside two other patients.
The cancer specialist hospital said it had apologised to the four patients and was investigating.
'System lapse'
A spokesman for Cambridge University Hospitals, which is responsible for Addenbrooke's, said: "We deeply regret these incidents and have apologised to the four patients.
"Fortunately, none of them came to any permanent harm.
"This hospital has one of the best records in the NHS for patient safety but we are investigating and will learn from these events.
"We have already taken action to minimise the risk of them happening again."
The hospital said it would not release further details due to patient confidentiality.
The incidents happened over a six-week period since September.
Details of the cases emerged after a medical director at the hospital sent an email to staff reminding them that "100% should be our standard for patient safety".
'Never events'
Campaigner Peter Walsh, of the charity Action Against Medical Accidents, said the hospital investigation needed to focus on how the "system lapse" was allowed to happen.
He said: "These type of incidents are called 'never events' within the NHS because they should never happen.
"These are basic errors that can be avoided. We do see them but they are becoming increasingly rare.
"To see four so-called 'never events' in six weeks at the same hospital is extremely rare and a great cause for concern.
"There needs to be an investigation into how this system lapse was allowed to occur."
Addenbrooke's Hospital is an internationally-renowned university teaching hospital.
It is also a centre of excellence for organ transplantation, cancer, neurosciences, paediatrics and genetics.