Tesco agrees to Somersham's plastic bag ban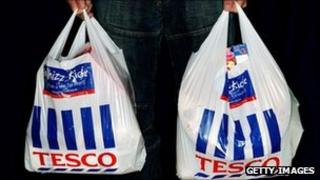 A newly-opened supermarket has agreed to support a Cambridgeshire village's ban on disposable plastic bags.
The Tesco Express opened in Somersham a week ago in a converted former pub.
The village has been plastic bag-free for three years, with all retailers agreeing not to offer them. Tesco said it would initially only offer "bags for life" to shoppers.
The store is believed to be the first Tesco in the UK not to offer free plastic bags to its customers.
A spokesperson for Tesco said the store would "listen to [customers'] feedback to understand if it is something they want us to continue".
'Interesting opportunity'
Steve Creswell, district councillor for Somersham, said: "When they finally agreed to the principle of not having disposable plastic bags, they said it was the first time that they had done it."
He added that "time would tell" whether customers were happy with the decision.
"I think it's fair to say that when [Tesco] bought the property they weren't aware that we were a plastic bag-free village.
"They started from the original position that their bags were degradable and that should be good enough, but they're still made from plastic, which as we all know is made from oil, which is a finite resource.
"Even though they break up, they never disappear so I think we were right to be firm with our decision and Tesco, to their credit, have acceded to our demands."
The company described the district council-led scheme as "an interesting opportunity to see how customers respond".