Cambridgeshire celebrates past and present Olympics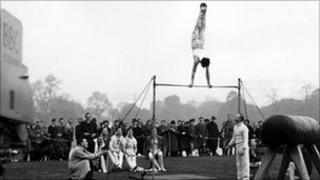 Museums and sports centres will be joining forces to reveal Cambridgeshire's Olympic connections, thanks to the Heritage Lottery Fund.
Over £40,000 will be spent on a project called Cambridgeshire Competes, which will run from spring 2012.
Members of the Mozambique National Team, whose training camp is in the county, are being urged to participate.
The aim is to build pride in the achievements of past and present athletes from Cambridgeshire.
Young people will be encouraged to take part in a host of sporting events and there will also be an exhibition trail, family activities, talks and presentations.
Memories of previous Olympics and people's thoughts on the 2012 Games, will be gathered for the county archive.
County councillor Martin Curtis said: "Our project, linking sports with museums, will utilise the power of the Games to provide a range of educational and sporting opportunities that we know will enthuse and motivate the residents of Cambridgeshire and Peterborough."
Ten museums and sports centres, throughout the county's five districts, will house temporary exhibitions.
These will include information on Cambridgeshire's and Peterborough's up-and-coming Olympic and Paralympic stars.
Anna Mercer from St Neots Museum said: "Cambridgeshire has many links to the Olympic Games and I am sure people will be interested to find out more.
"Museums are really motivated by this project."