TS Eliot's wife gives £1.12m funding to Cambridge college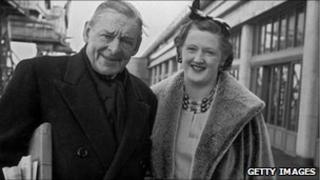 A Cambridge college has received a teaching fund worth £1.12m from the widow of poet TS Eliot.
Valerie Eliot set up the fund for English teaching at Newnham College, where she has been an honorary fellow for 20 years.
College principal, Dame Patricia Hodgson, said the gift would "guarantee in perpetuity the tradition of first-class English teaching at Newnham".
The funds are from Mrs Eliot's literary charity, Old Possum's Practical Trust.
Mrs Eliot set up the charity in part with funds generated by the Andrew Lloyd Webber musical Cats, which was based on her late husband's book of poems, Old Possum's Book of Practical Cats.
The £1.125m Valerie Eliot Fund for English will be used to create a lectureship at Newnham College.
'Entirely appropriate'
Mrs Eliot said: "I am very pleased to help to ensure the continuing excellence of the teaching at Newnham College with the creation of a lectureship in English literature.
"Newnham has a long and illustrious history in the teaching of English and has produced many outstanding and talented individuals.
"I am very pleased to be able to assist in ensuring this tradition will continue and it seems entirely appropriate that it has been made possible as a result of my husband TS Eliot's work.
"I am particularly proud of my own connection with Newnham and this fund will cement that further."
Dame Patricia Hodgson added: "It is marvellous, and entirely appropriate, that profits from the musical Cats are being reinvested in teaching and learning English at Newnham.
"Almost everyone has a favourite Cats poem, and we should always remember that popular literature is rooted in the scholarly tradition of teaching and learning in English."