MPs' concerns over Bristol Metrobus greenbelt plans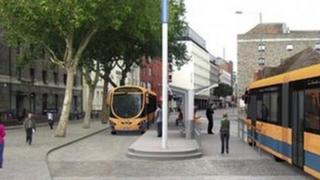 MPs and councillors have written to Bristol's mayor asking him to reconsider plans to build a bus-only junction on prime fertile land.
The Metrobus scheme would see a junction and bridge built using land and 32 allotment plots at Stoke Park.
The area off the M32 is made up of "grade A" soil, which experts say is found in just 3% of England.
MPs Kerry McCarthy, Charlotte Leslie and 11 councillors have asked Mayor George Ferguson to seek another route.
In an open letter, the group said: "We support any action that can be taken to ensure that Bristol and South Gloucester local authorities find innovative and collaborative solutions to transportation and congestion challenges, without compromising the excellent and valuable work that is producing food from some of our best land."
The group said any proposed transport solution should look first at brownfield sites, and not "compromise" the use of high-quality agricultural land.
Further concern was expressed over plans to run a section of the new road across Stoke Park, which the group described as "a historic piece of landscape" and the "green lungs for North Bristol".
In response, Bristol City Council referred to Mr Ferguson's statement last week where he stated the project board had submitted a "significant revision" to its planning application.
He said the revised proposals included a narrowed bridge structure, which removed the provision for access to a potential park-and-ride site.
He said that would "balance the needs of the city both in terms of the vital need to build a better transport system for Bristol and allowing the city to grow more of its own food".