Bristol Rovers stadium move delayed for a year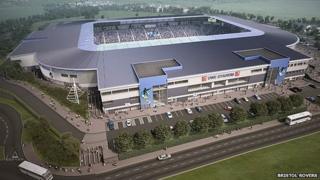 Bristol Rovers' move to a new £40m stadium is likely to be delayed for a year, the club's chairman has revealed.
Nick Higgs said building work at the University of West England (UWE) would not start soon enough for the stadium to be ready for the 2015-16 season.
Appeals against development on the current ground, the Memorial Stadium, had led to the setback, he said.
It means the new ground will not be ready until the start of the 2016-17 season.
Campaign group TRASHorfield failed in its attempt to block a development of a new Sainsbury supermarket on the current ground.
Another application to list the ground as a war memorial was rejected by English Heritage.
'Extremely frustrating'
Mr Higgs said although the club would not be allowed to move mid-season, it intended to get on site and start building later this year.
He said the two attempts to halt the plans had cost the club "a lot of time and money".
"It is extremely frustrating that these small minority groups have been able to have such a massive impact on this project and associated projects that will bring so many benefits to the local area," Mr Higgs added.
The club needs to sell its current ground to help pay for the new 21,700-seat stadium.
Bristol Rovers were relegated from the Football League to the Conference at the end of last season.