Callington Road Hospital let psychiatric patients go 'Awol'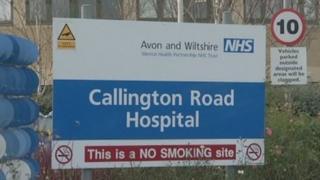 Poor record-keeping enabled patients to leave a psychiatric unit in Bristol without permission, the care watchdog has found.
The Care Quality Commission (CQC) checked Callington Road Hospital after concerns from Avon and Somerset Police.
In January, 32 calls were made to police, including 15 about missing patients and four relating to assaults.
The trust said it had "enhanced our weekly internal monitoring to help us manage and reduce these incidents".
Inspectors said doctors and nurses had a detailed knowledge of their patients' needs and the risks they posed to themselves and others.
However, they said, because of the "not-fit-for-purpose" record-keeping, people were not protected from these risks.
Adrian Hughes, regional director at the CQC said: "Records weren't kept up to date, suggesting that decisions were being taken without all the information that was required.
'Working with police'
"While everyone was aware of the concerns about people going missing, there seemed to be little real progress in trying to understand why this was happening and the trust could learn from these incidents."
In one example, a patient, referred to as "A", went "Awol" for six days. After that incident, a staff member said that patient's leave had been temporarily suspended pending a ward review.
However, when the paperwork was checked, it said patient A was entitled to leave and daily handover notes also did not reflect what the member of staff had said about his restrictions.
Similar examples were found on the hospital's Lime, Larch, Silver Birch and Hazel units, the watchdog said.
A spokesperson for the Avon and Wiltshire Mental Health Partnership NHS Trust (AWP), said: "We have been working closely with the police, including monthly meetings over the last two years, to ensure effective working relationships.
"We use these to address issues that impact on individuals under our care and to ensure that clinical interventions support individual recovery and are collectively understood."