Arrests for rape and kerb crawling in Bristol crackdown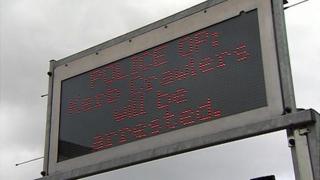 One person has been charged with rape and 35 arrested for kerb crawling in a prostitution crackdown in Bristol.
The operation was launched three weeks ago, after more than 100 complaints from people living in the Fishponds and East Park areas over the past year.
Police said the rape charge resulted from officers being flagged down by a sex worker claiming she had been hit over the head with a stone and raped.
Cautions or anti-social behaviour contracts were issued to kerb crawlers.
According to the police, the area has become notorious with about 30 prostitutes regularly working it.
But over the last two weeks, the force said its uniformed and undercover officers had caught kerb crawlers on Fishponds Road, Warwick Road and Stapleton Road.
'Can't see us'
The men, mostly from the Bristol area, will either attend a one-day course which focuses on the impact of their behaviour or are currently going through the court system.
Up to 25 sex workers were also referred to Bristol charity One25 - which helps women street workers get out of addiction - and encouraged to contact police about abuse.
Neighbourhood Insp Simon Dewfall said: "The first two weeks of the operation have seen us catch a significant number of men kerb crawling but we're clear that this isn't a problem which can be fixed quickly.
"The operation will continue throughout the spring and even if you can't see us, it doesn't mean we're not there."