Bristol Downs classical bridge to use trainee stonemasons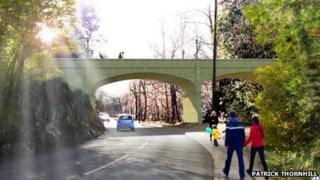 Designers who want to build a classical stone footbridge in Bristol have enlisted the help of apprentice stonemasons.
The trainees could "gain real experience" on the project to complete a missing link in a circular route on the Downs, said engineer Adrienn Tomor.
The idea has been approved in principle by the council's Downs Committee.
Dr Tomor said the planning application would be submitted to the council in the next few months.
The proposed bridge across Bridge Valley Road, in Clifton, would be 50m (164ft) long and would link two existing footpaths and include a dedicated cycle path.
'Traditional techniques'
Ray Sumner, from City of Bath College, said: "We are looking forward to being part of such a prestigious project, which will help develop the skills of our students to help prepare them for the workplace.
"Stonemasonry is a vocational subject and it is our aim for students to gain the experience to be able to walk into a job at the end of their training."
Dr Tomor, from the University of the West of England, said: "We are intending to use traditional techniques with modern technology whenever possible, for example for stone cutting, transport and lifting.
"It is not intended to be a commercial project and we are keen to get as much involvement from the wider community as possible."
She said their initial proposals submitted to the council in December had "received a favourable response".
Dr Tomor said she hoped the bridge would be built in time for Bristol's Green Capital year in 2015.
An open day with information about the project is being held on Saturday at Engineers House, The Promenade in Clifton between 10:00 and 12:00 GMT.