Criticised war memorial unveiled in Bradley Stoke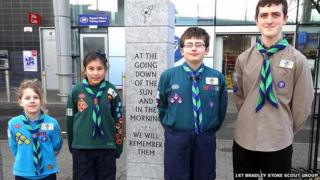 A war memorial criticised for being put up in a town with no known military personnel to dedicate it to, has been unveiled in South Gloucestershire.
The simple granite pillar was installed by the 1st Bradley Stoke Scout Group at a shopping centre in Bradley Stoke as a "focus" for Remembrance Sunday.
The Royal British Legion had said it could only be a war memorial if local people had died in conflict.
Organisers said the "generic memorial" was for all those who had died.
The new town of Bradley Stoke, planned in the 1970s and built in the 1980s, was green fields and farmland during the first and second World Wars.
'No names'
Despite the Legion asserting the monument could not be called a war memorial, organisers wanted the Scouts to have a focus for their annual Remembrance Day parade.
"It's a generic monument, so there are no names on it," said Katherine Robinson, Scout group leader.
"The whole project has taken nearly two years so it was lovely to finally get it officially dedicated."
The new memorial, with a poppy carving, traditional poem and a Scout Remembrance badge, was dedicated by the Lord Lieutenant of Gloucestershire at a special ceremony on Saturday.