Bristol RPZ: Ex-Stig Ben Collins attacks parking zone scheme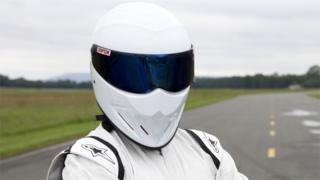 A former Top Gear driver has criticised plans for the rollout of a residents' parking zone (RPZ) in Bristol.
Bristolian Ben Collins, who played The Stig on the BBC show, was responding to a shop owner's tweet commenting on the impact roadworks were having.
He tweeted: "A problem that will get worse if the residential parking scheme goes through, at great cost to all."
Bristol mayor George Ferguson replied: "Time will tell, but all signs are that it'll improve situation."
He added: "And I'd just like to assure you that it is going through."
Mr Ferguson wants to implement a rollout of parking zones over the next 18 months to stop commuters parking in city streets.
But the scheme has faced criticism, with many people saying they do not want it.
Under the plan, residents will have to pay £48 to park outside their houses for one car and £96 for a second permit.
Mr Collins, who was born and lives in Bristol, said that "when you scratch under the surface" of the scheme "it is going to cost everyone a lot of money".
"It is just a tax really without any thought to how everyone will get around," he said.
"They are just beating drivers with a stick, saying 'it is your fault'. My impression is that they would be happy to see driving end in Bristol, but if that happens it will just kill off business."
'Totally inaccessible'
The stunt driver, who says he regularly uses a bike and would like to be able to use it more, added the council should instead look at putting in "decent bus routes" and a "good cycling network".
"They need to do something with the roads, rather than just fiddling around the edges of the issue with residents' parking zones," he said.
"You can't take a bike from out in the sticks into the centre of Bristol... and anyone trying to get around Bristol will know it is incredibly frustrating."
Mr Collins added that one of his biggest concerns was for small businesses where customers will no-longer be able to park outside.
"I want what's best for Bristol and one size does not fit all. Gloucester Road is an amazing stretch of shops, you can go down there and get everything you you need, whereas Broadmead is now totally inaccessible," he added.
The council has said the residents' parking scheme will "give the streets back to local residents and businesses".
It added that charging a small amount for permits makes it easier for residents to park near their homes, and reduces the problems of circulating traffic, pollution and congestion related to commuter parking in residential areas.
At present, parking zones operate in Kingsdown, Cotham and central areas of the city.